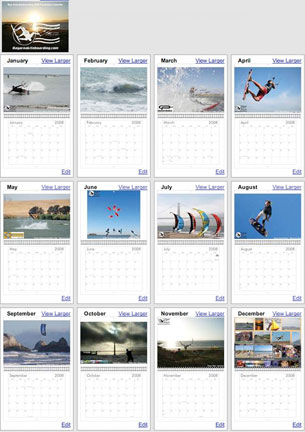 San Francisco Bay Area Kiteboarding created 2008 calendars to help with fundraising. Here is what they have to say about the calendars:
We've recently completed the 2008 Bay Area Kiteboarding Fundraising Calendars and if you're interested in one, they are shipping now. Cost is $17.50 plus shipping and all proceeds beyond printing costs go to continue to help fund the events we have and continue to do including beach clean-ups, demo days, bbq's, great parties, swap meets and more. Big thanks to all contributors who sent in photos for the calendar. Final shots were selected on a number of criteria including overall representation of the Bay Area, locations, image quality & resolution and composition. To order simply visit http://www.bayareakiteboarding.com/portal.php and click on the Buy Now button and order through Paypal and they'll be sent out right away.
Head to www.bayareakiteboarding.com for more info.